In industrial parks or large factories, the management of thousands of workers per day is a very difficult problem from coming in and out, operating and especially ensuring security and confidentiality issues.
Let us put ourselves in the position of a worker. Their lives have a lot to worry about- from providing basic needs and daily expenses to long working hours and potentially hazardous environment that can reduce their productivity. Therefore, ensuring that employees have a well-deserved standard of welfare can contribute to reducing worries in their lives, making workers feel comfortable in the process of work, resulting in increased efficiency.
It is an employer's responsibility to provide lockers for employees to store their personal belongings when at work. Employees like to have lockers for workplaces so that they can keep their personal items safe, which helps to increase productivity. Although your office may not have frequent problems with robbery, it is better to be safe than sorry. Given below are few pointers that suggest the importance of lockers in offices:
ABS lockers for factories
The ABS lockers for factories will be a beneficial investment in long-term when foreign-invested factories in Vietnam are gradually switching to the ABS locker instead of traditional iron lockers. When it comes to managing a large number of employees, the loss of personal properties happen more frequently and this can affect the morale as well as cause them lose their focus on the job. With ABS lockers system combined with high quality locks that provide absolute security for each user's personal property, that will possibly reduce theft and then increases the sense of security at work.
In addition, ABS lockers made from superior material, is resistant to any type of detergent, easy to scrub, ensure hygiene and safe storage area of the staff. Another strong point of an ABS locker that is the capability of fitting a 3S keyless lock, which is designed exclusively for ABS Lockers. The removal of the classic key lock helps to avoid the loss of key map. It is also very simple to use, easy to management with master key.
When it comes to the factory, workers can change clothes and leave the locker cabinet along with other private sites such as telephones, wallets and papers, work documents without having to bother about security.
The outstanding advantages of ABS locker:
Very durable, very stiff, withstand the strong impact of the external force.
Fire-resistant, environmentally friendly ABS material is able to recycle.
Easy to clean, not affected by detergent, humidity or rust.
Non-sharp design, safe for users
Diversity in size, suitable for many types of furniture, with hanging bars for clothes/uniforms
Lightweight, easy to move and reposition
Designed to be spacious and well ventilated.
Modern colors and high aesthetic suitable for clean and bright design styles of the factory

Locking system with high security, ensuring asset safety of each employee
Types of locker suitable for factories: (Height x Width x Depth)
W900 (930 x 382 x 500) – holds documents, equipment, personal belongings, hangers, etc. Shelves could be adjusted for more using purposes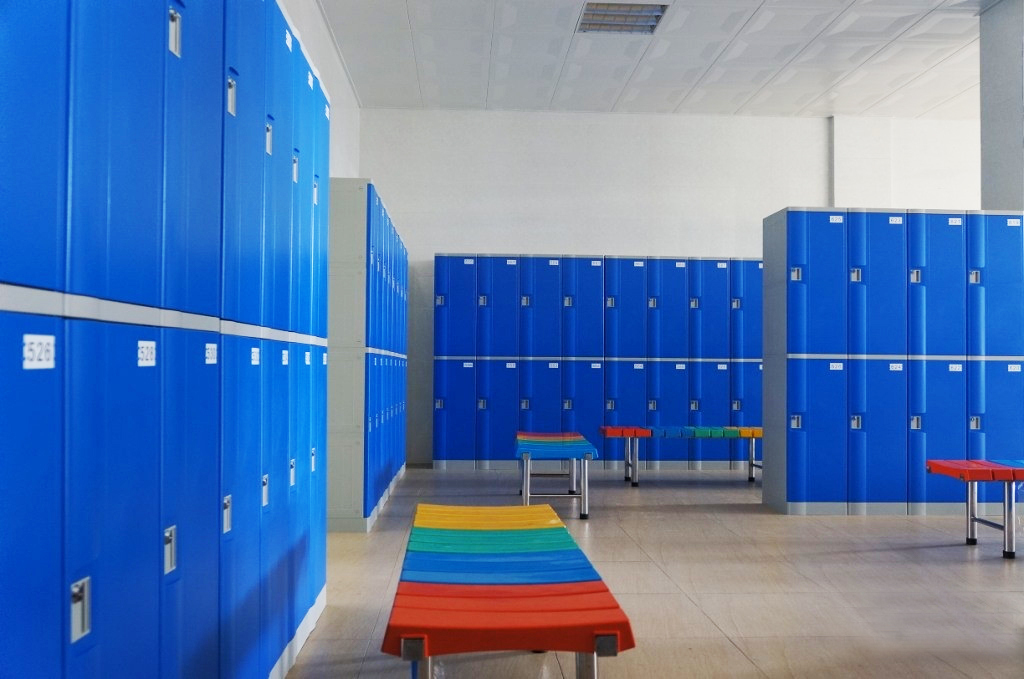 W600: (620 x 382 x 500 mm) – holds documents, equipment, personal belongings, hangers, etc. Shelves could be adjusted for more using purposes