Installing MCU locker at E-mart – Korea's number one retail supermarket chain
As the number one retail chain in Korea, E-mart is currently an indispensable part of Shinsegae – Korean leading corporation with diverse business format such as Korean Starbucks, Shinsegae Mall, Premium Outlet system…
In 1993, E-mart started its business in Korea and proceeded to acquire Korean Walmart in 2006. At the moment, E-mart is a global retail company with more than 160 stores operating in Korea and China, along with office branches located in the US, Japan and Vietnam.
E-mart is becoming the global leading retail company by creating a joyful lifestyle for customers, and creating a benefit value for the local community development based on the company's operating principles. Currently, E-mart is expanding the business to Vietnamese market because it is considered as a rapid growing and potential economy.
A smart and convenient solution to deal with sending and receiving problem at E-mart
There are hundreds and thousands of customers come to shop at the supermarket every day. The storage of customer belongings when coming to the supermarket is extremely essential. Understanding that demand, E-mart has equipped MCU locker to serve the customers.
Electronic Locker MCU is also known as Micro-Computer Unit, is the smart locker of Locker & Lock, using advanced technologies to store personal belongings, goods and receive parcels at supermarkets, hotels, airports or shopping malls.
Designed with modern appearance, removing the traditional key mechanism and instead using programming methods to open and close the locker in order to help MCU locker enhance security as well as convenience from digital technology, also simplify public storage. MCU lockers with self-management function allow customers to interact directly with the locker without any help.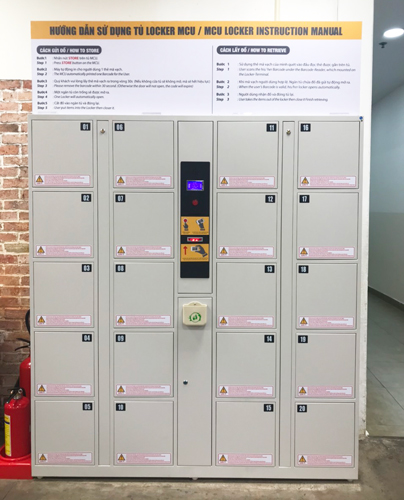 Installation of MCU locker
MCU locker products are made of metal, with the number of compartments and colors completed depending on the type of installation area and the storage needs of customers. Accompanied by the technology technology of Singapore standards with simple operation, make the process of sending and receiving quickly.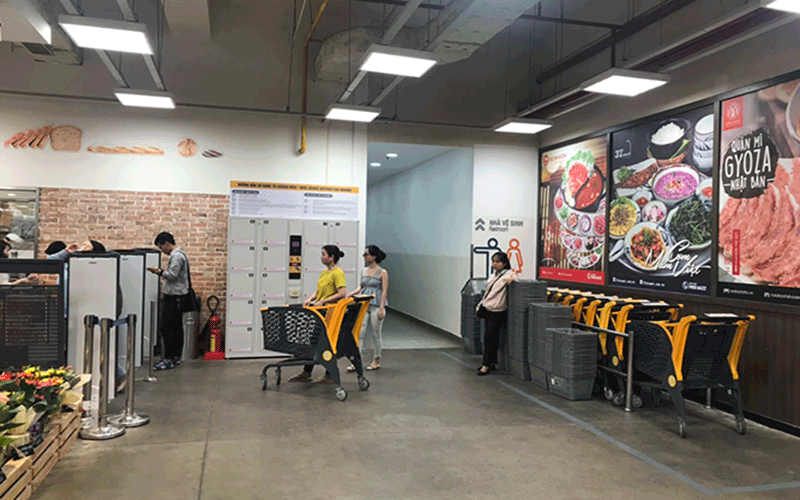 Some outstanding features of MCU locker that E-Mart supermarket is using:
The infrared sensor in the drawer helps to identify the closet and only allows open cabinets.
Led lights in the drawer help customers use more convenient in low light conditions
Cabinets are designed according to Cubic effect to increase the visual effect in the eyes of the viewer, enhancing the elegance of the cabinet
Many options for sending and receiving methods such as using a PIN, using a barcode, using an RFID chip
Diverse colors, can mix colors suitable for installation space
Fully automatic, saving management costs
From the day E-Mart supermarket equipped MCU locker cabinets to the supermarket, customers are completely assured because their personal belongings have been stored in a locker area to ensure absolute safety, saving storage time and take. Supermarkets do not need to arrange personnel to save money, improve the image and service quality. Customers coming to E – Mart experience a completely new and secure MCU locker area.
Installing MCU locker at E-mart – Korea's number one retail supermarket chain As the number one retail chain in Korea, E-mart is currently an indispensable part of Shinsegae – Korean leading corporation with diverse business format such as Korean Starbucks, Shinsegae Mall, Premium Outlet system… In 1993, E-mart started its business in Korea and proceeded…