Public bench
To achieve the standards of comfort, optimal and beautiful space, it requires a lot of factors from the product, installation location as well as size. One of the indispensable utility items in public areas, crowded places are tables, single chairs and public benches.
It can be seen that in today's increasingly developed society, people's lives are improving to require all places from entertainment, health to services and tourism. Those improvements are needed to meet customer needs.
The image of benches in public areas such as shopping malls, shopping centers, hospitals, schools seems to be familiar for everyone because of the powerful benefits that they bring. So let's find out how Locker & Lock is made up of benches and their benefits in public areas!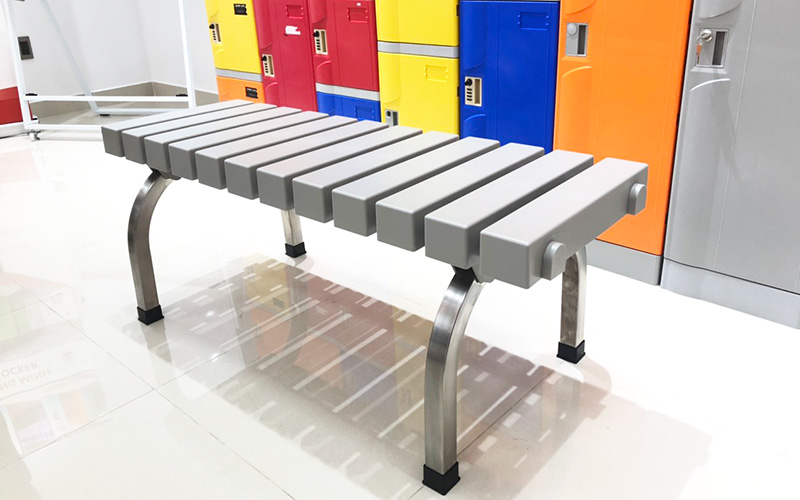 Structure of bench products
About material:
The seat surface is made entirely of high quality ABS plastic and high quality stainless steel. So why does Locker & Lock apply these 2 materials to our products?
ABS plastic: ABS plastic is very hard, solid but not brittle, good balance between tensile strength, impact, surface hardness, rigidity, heat resistance of low temperature properties and electrical properties. Typical properties of ABS are toughness, impact resistance and heat resistance. Therefore, ABS plastic is widely used in life such as televisions, motorcycles, … and especially benches.
Stainless steel: The frame and base of the bench at Locker & Lock are made of stainless steel, which has high corrosion and oxidation resistance, which increases the quality and longevity of the products. At the same time, they are rarely broken or repaired, save money and time for people. Especially, this material does not contain chemicals harmful to health, long-term use without rust and high heat resistance, so they are the first choice in the production of medical devices, pasteurization and even in food processing industry.
About design:
With a minimalist design and maximum savings on shipping costs, Locker & Lock benches are easily adjustable to ensure balance even when the ground is not level. There have many colors to choose from. Especially they can be used both indoors and outdoors.
ABS plastic benches were produced by Locker & Lock's experienced team of experts, who have researched and created the most advanced products to bring to the Vietnamese market.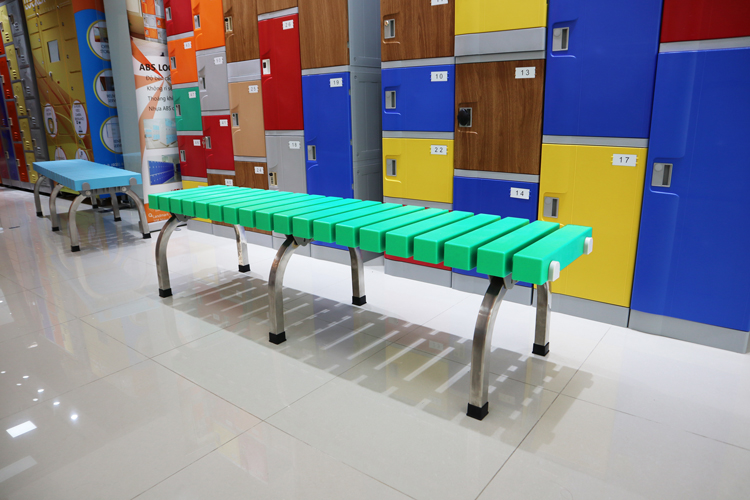 Places where public benches are needed
Dressing room
One of the places where benches are always installed is the dressing room. Before people put things in the locker, users need a place to sit down, change clothes and shoes. Constructed of ABS and stainless steel, the plastic bench of Locker & Lock will be the best choice in high humidity environments thanks to waterproof, rust and corrosion resistant materials.
Before class time, the recess's school need plastic benches, which are always needed to meet students' leisure or recreation needs. The location of outdoor or indoor chairs is not a problem because of the weather conditions, the quality of benches remains unchanged. Besides, the eye-catching iron color highlights the school space.
Shopping mall
For a place with a large number of visitors, the benches are always a part of investors' attention because these are the basic services for customers to have a place to stop and rest while they are visiting at the shopping mall. They show the interest of the business to its customers. And with such a large number of benches, many problems arise. But with the plastic benches of Locker & Lock Company, investors can be assured of product quality, installation and repair costs, …
Hospital
At present, in addition to big foreign invested buildings or international schools in Vietnam, the hospital also focuses on building spacious and modern facilities to meet the increasing needs of people. Therefore, the design and layout of reasonable interior and exterior always plays an important role. So, the installation of benches with elegant colors in the hospital will be a subtle highlight, which will help to build the image and increase the hospital's professionalism.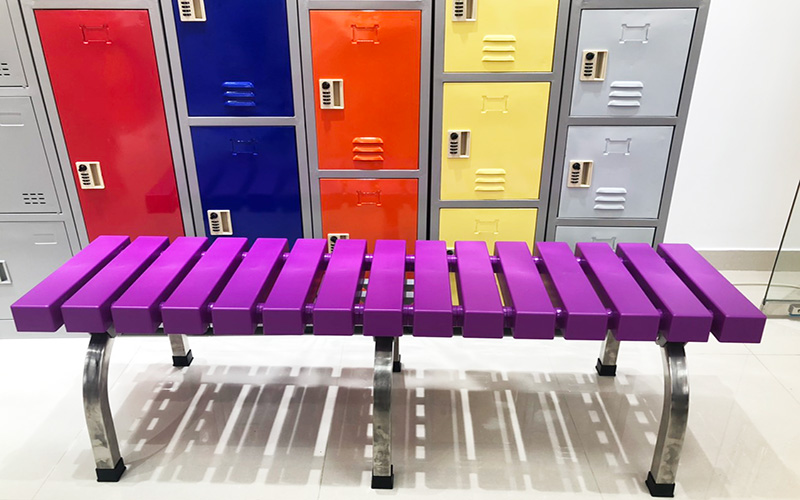 Locker & Lock specializes in providing high-class bench products with a modern, smart and multi-size design. The color will increase the professionalism for your business. We are always committed to have the best products and services. You can visit the official website www.lockernlock.vn for more details about the product or call the hotline for direct advice.